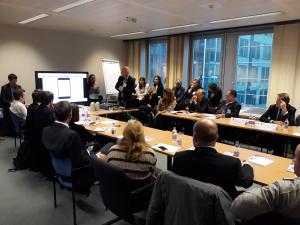 "Ensuring patient safety in healthcare is a challenge for many EU countries; national healthcare settings must regain the trust of their people when it comes to healthcare management"
MEP José Inácio Faria (EPP, Portugal)
On 5 December 2017, policymakers and health representatives met to discuss and assess the current situation of patient safety in Europe and how eHealth technology could reduce adverse events in all healthcare settings. The roundtable entitled Engaging patients in the digital revolution: A call to build smarter and safer healthcare systems was organized by Health First Europe and City-Labs, under the Patronage of the Estonian Presidency of the Council. The event was an opportunity to launch the HFE Declaration on Patient Safety which calls for a joint effort to prevent unnecessary harm across Europe.
MEP José Inácio Faria (EPP, Portugal), who chaired the roundtable, emphasised the need to embed patient safety as priority issue in public health policies and foster EU actions on quality of care. In this regard, MEP Faria was happy to announce the launch of the HFE Declaration for Patient Safety, which calls to reform and harmonise patient safety standards and practices to guarantee a safer healthcare. As he said "Through the Declaration, Health First Europe calls upon European stakeholders, policymakers, health authorities, healthcare professionals, providers and patients to join hands and sign up the Declaration online to prevent unnecessary harm across Europe"
The opening address was delivered by Mr Ain Aaviksoo, Deputy Secretary General on e-Services Development and Innovation at the Estonian Ministry of Social Affairs. He gave an overview of the Estonian Presidency's efforts in boosting digitalization of services and the prospects of data-driven approach in healthcare (i.e. increased access and safety in healthcare; sustainability of health systems; movement of health data to boost innovation and research). As he underlined, "EU General Data Protection Regulation facilitates better use of health data: privacy means that personal data should not be secured from being used, but to be used".
The digitalization of healthcare sector is still far away from being reached. MEP Yana Toom (ALDE, Estonia) and MEP Indrek Tarand (Greens/EFA, Estonia) pointed out few challenges including fostering digital skills of healthcare workforce, guaranteeing cybersecurity and tackling the lack of funding to ensure the highest patient`s benefit. MEP Tarand highlighted that "the costs of health care are increasing significantly and a paradigm shift in the health setting is needed to avoid stoppable harms and costs. However, as Member of the Committee on Budgets, I regret to see the constant lack of projects on patient safety and health quality."
Mr Niek Klazinga, Head of the Health Care Quality Indicators at OECD, gave his valuable contribution to the meeting by presenting Patient Safety Indicators along with the results of the OECD Report on the Economics of Patient Safety and nine priority areas for further R&D. While stressing the burden of adverse events in Europe, Mr Klazinga remarked that "patient harm is the 14th leading cause of the global disease burden. Around 15% of total hospital activity and costs are a direct result of adverse events. The most burdensome adverse event types include venous thromboembolism, pressure ulcers, and infections."
Ms Katja Neubauer, Team Leader on Digital Single Market & eHealth at the European Commission, noted that EU citizens are ready to embrace eHealth solutions and data sharing: "while drafting the report of the Public Consultation on Healthcare in the Digital Single Market ran this year, I was very surprise to realise that over 80% of respondents agree that citizens should be able to manage their own data and that sharing health data can be beneficial". She also gave an overview on the European Commission's work for the digital transformation of healthcare outlining some key priorities, namely (1) giving citizens better access to their health data; (2) sharing health data for research, faster diagnosis and better health outcome and (3) using of digital services for citizen empowerment and patient-centered care.
The Roundtable was also enriched by the contribution of Prof. Benoît Macq, Université Catholique de Louvain, who presented a real example of how innovative technologies such as point-of-cares and self-tests are changing the landscape. Moreover, he shared the new created app called Eglé which is a tangible example of how the digital revolution can facilitate chronic disease monitoring.
MEP Alojz Peterle (EPP, Slovenia) gave the closing remarks stressing the great burden of unsafe care and healthcare associated infections as well as the importance to boost data collection and sharing: "we can be sure that patient safety will benefit from a truly European scheme which would aim to consolidate and share science-based data on adverse events and tackle faulty systems that lead people to commit mistakes".
Although healthcare is largely a national competence, this should not turn EU policymakers away from working towards better coordination and support while addressing preventable harm. MEP Peterle concluded that "as enshrined in the Charter of Fundamental Rights of the EU, member States committed to ensure a high level of human health protection in the definition and implementation of the Union policies and activities. This is why health remains one of the main challenges of the EU and it should be, in my view, our first political priority".
See the event's pictures here.