Webinar
Pathways for fostering patient safety across Europe:
Learning from regional success stories
#Together4SaferHealth
Tuesday 8 September 2020, 11:00 – 12:30 CEST (Brussels time)
Health First Europe is organising a virtual roundtable event entitled Pathways for fostering patient safety across Europe: Learning from regional success stories, which will take place on 8 September between 11:00-12:30 CEST via a webinar.
The purpose of the discussion is to bring together healthcare authorities, patients, healthcare providers and workers as well as EU policymakers to debate the current landscape surrounding patient safety in Europe and showcase the patient safety success stories from across Europe's regions and local governments.
Patient safety remains a challenge for European healthcare systems. According to the World Health Organisation (WHO), medication errors and healthcare-related adverse events occur in 8% to 12% of the hospitalizations in Europe. Nearly half of the harm is believed to be preventable. Lapses in safety not only result in significant patient suffering but represent a considerable financial burden as well. The Organisation for Economic Co-operation and Development (OECD) estimates that direct costs of unnecessary harm to patients can amount to as much as 5% of total health expenditure.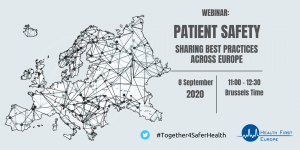 Join us for a lively discussion featuring insights from:
ECDC – European Centre for Disease Prevention and Control
The European Parliament
European Committee of the Regions
UEHP – European Union of Private Hospitals
IAPO – International Alliance of Patients' Organizations
University of Ferrara (Italy)
University of Geneva (Switzerland)
We hope to welcome you at our roundtable!